I'd like to comment on three things in last week's paper.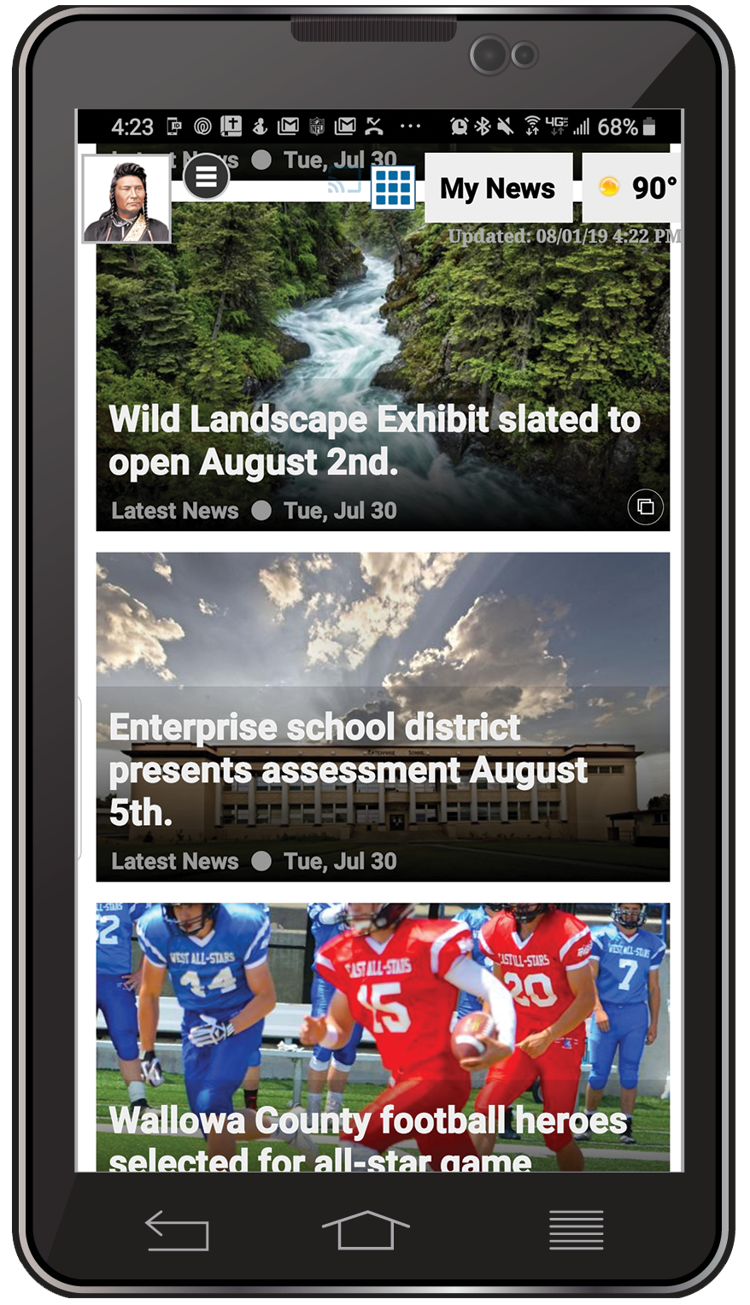 Get breaking news!
United States has been involved in a deadly conflict for years. Many Americans both military and civilian have lost their lives in this conflict. Intelligence agencies know who the bad guys ar…
Dear Editor- In the Chieftain of Feb 5, 2020 you published an article authored by a Jake Ellison, who claims an address or to be representing or is somehow affiliated with the University of Wa…
When you are 136 years old, sometimes it's hard to adapt to newfangled ways. The Chieftain published its first issue in 1884. A Jan. 7 1898 issue, yellowed, fragile and faded, is the oldest ed…
'When we have poor air quality we see more patients in the ER and in clinic with respiratory complaints, especially those with underlying lung diseases like COPD and asthma." Dr. Geoff Maly, W…
The recycling center in Enterprise isn't closed, but its function seems significantly diminished. We can still take our cardboard there. And plastic with sufficiently low numbers stamped into …
In his 1973 address to the Oregon Legislature, Republican Gov. Tom McCall said: The interests of Oregon for today and in the future must be protected from the grasping wastrels of the land. We…
Despite emerging clues about the cause of vape-related illness and deaths, the cold fact remains: Breathing anything other than clean air into your lungs is harmful. Yet two of the substances …
This column is the second in a two-part series about impeachment.
Happy New Year! I hope that everyone had a good time, spent New Year's Eve with friends and family and good food. Thought I would share just a few of the things that I've been keeping an eye o…
2019 proved to be an exciting year for the upstream irrigators in Wallowa County. After operating as an irrigation district for a couple of years, we were granted an incredible opportunity fro…
For this month's column, I want to write about a person that means a lot to this community as well as the kids in it. Previously, I've written about students from my high school.
When "All in the Family" hit the TV screens in 1971, the war in Vietnam was raging, cities from Washington, D.C. to Detroit were charred from riots in the wake of Martin Luther King's assassin…
It's been a rough week. The fire in Joseph Charter School's gym has upended a school year, challenged Joseph's winning sports teams in ways they never anticipated, and in the end, seems to be …
About 80 percent of the East Moraine will remain undeveloped now that Wallowa County has taken ownership of the 1800-acre Yanke property.
The four dams on the Lower Snake River are distant and may seem irrelevant to Wallowa County. So why is the Chieftain running a bunch of stories about them?
The new year and the new decade have brought us many new challenges. Some of them, including possible war with Iran or at the least, continuing turmoil in the Middle East are alarming. Others,…
Despite Oregon's widespread housing shortage, the amount of housing built in the state during the past decade reached a record low.
I've never been one to make New Year's resolutions or annual predictions. Instead, in the interest of stirring the political pot, I offer five possibly provocative proposals for education in Oregon.
I respectfully submit a rebuttal to Mr. Bunn's letter of December 25, 2019 . If we consider the great things Mr. Trump claims to have accomplished during his administration, we should also con…
It's 2020. The Christmas season, a time for wishes and presents is past. New Year's is the time for resolutions, for looking forward with 2020 vision and making ourselves and Wallowa County an…
I just spent the day decorating cookies with a bunch of kids at the VFW Post. Reminded me of holidays from years gone past. A day spent making a mess with cookies, rice crispy treats, and just…
What is in a name? Much. "Behold, the virgin shall be with child, and bear a Son, and they shall call His name Immanuel," which is translated, "God with us." Matthew 1:23 NKJV This name given …
Guilty! I confess. During the winter I do my walking exercise inside the grocery stores. The walking gives me an opportunity to shop at the same time. Note, I say shop, not buy yet. The import…
Here in Wallowa County, we take well-deserved pride in our schools. Wallowa provides superb vocational education and advocacy for students, with local professionals and artisans contributing t…
WASHINGTON, D.C. — Last week U.S. Rep. Greg Walden, R-Hood River, spoke at an Energy and Commerce Subcommittee on Oversight and Investigations hearing entitled "Flu Season: U.S. Public Health …
Earlier this year, Microsoft announced that support for Windows 7 would end Jan. 14. What does this mean for owners of Windows 7 computers?
Well folks, the time has come. I started writing this column in 2013 and have really enjoyed working with the staff at the Chieftain. Thank you all for the many compliments about my column. I …
'When we eat, so do they. When we travel, they come along. When we die, they consume us."
I got yelled at for catching salmon when I was a kid. The guy bellowing at me and my buddy had the high moral ground in this case. Thing was, these were little salmon. An ODFW truck had backed…
Because a few of our Rotary meetings lately have involved local organizations and causes like the Soroptimists, Community Connection and the Food Bank, and because of an empathetic comment fro…
Sometimes the onus of trying to stick with a healthy diet can be overwhelming. Not to mention confusing. First, dietary gurus and scientists change their stories. A while back you couldn't eat…
Generally there's not much going on in Wallowa County on a Tuesday night. A couple of 6th-8th grade boys basketball games, and not much else. Until now, the weather has been mild and amenable …
In the article titled Enterprise ATV town hall draws few, (November 13 issue of the Chieftain) the photograph's caption incorrectly identified Enterprise City Council Member Larry Christman as…
Eleventh hour of the eleventh day of the eleventh month… the guns were finally silent after years of brutal trench warfare. Untold millions of souls lost and most of western Europe in tatters.…
This year, Veterans Day, November 11, 2019, is the 100th anniversary of a holiday established to honor living members of the U.S. Armed Services and those who have served. A century ago, it wa…
The Fall of the year is when many organizations raise money for their individual goals and purposes. These efforts go hand in hand with knocking on local business doors requesting donations, s…
On Nov. 11, 1969, Operation Fulton Square in the Quang Tri Province was in full force with the assistance of the 1st Marine Division, 101st Airborne Division and the 5th Infantry Division. Thi…
Since 1999, a lot has changed in Oregon: The Ducks became a football powerhouse, thousands of Californians ignored Governor McCall's admonition and decided to visit and stay, and tech fully to…
Recently reviewing my on-line medical information from Winding Waters Clinic, I noticed I had received 2 doses of pneumococcal vaccine: one dose of PPSV23 in 2013 and a second dose of a simila…