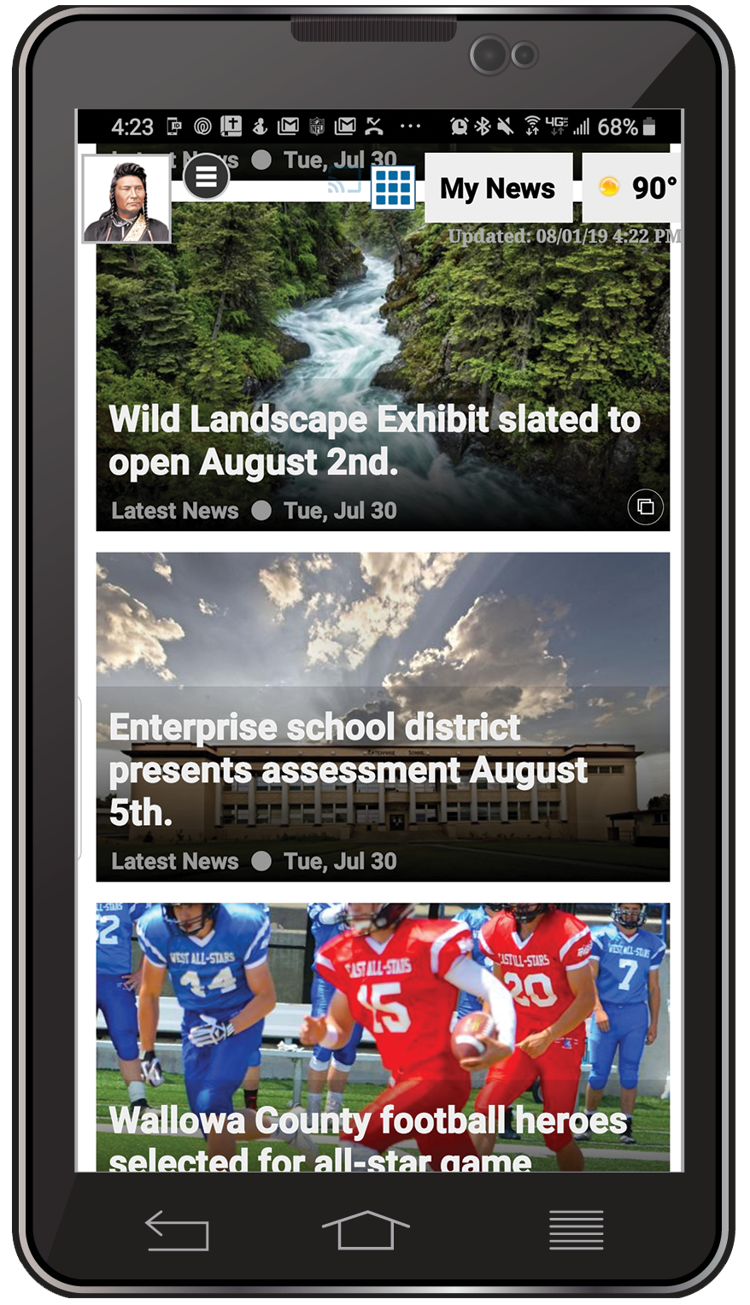 Get breaking news!
Oregon State University archaeologist Loren Davis' astounding discovery of North America's earliest known, 16,560-year-old human habitation, at a place known to the Nez Perce as the ancient vi…
So far, the 2019 fire season in the Pacific Northwest and California has been remarkable. In an era of increasing temperatures and decreasing precipitation, when raging wildfires have brutally…
Sometimes destiny comes calling. That's what seems to be happening at the Wallowa County Humane Society this week. Suddenly, instead of moving to adequate, but smaller, remodeled quarters sequ…
Much has been written, discussed, opined, and debated about the denying of a quorum for 9 days, when the 11 Oregon Senate Republicans made the decision to leave. Since I was one of what became…
Dear Anonymous Wallowa County Community Member,
The 74th annual Chief Joseph Days Rodeo in now in the record books. The cowboys' big horse trailers with living quarters have left. We can cross the street in Joseph again. And getting a meal …
For the Wallowa Mountains Hells Canyon Trails Association and their partners, clearing trails of downed trees and encroaching brush is an arduous task, and also a labor of love. It's time devo…
A whole lot of us have endured what seems a chilly, wet spring and a July that so far has felt all-too-little like summer. That first cutting of hay was dismal and difficult, held hostage by d…
It was heartening to see the bright green sign inviting hikers and passers-by to contribute to the Campaign for the East Moraine. It's about time that the people who live here, who know what t…
There is probably not a single sentient being in all of Oregon who has not followed the drama of HB2020's demise. Some bemoan its loss. Others celebrate its doom. It was a cumbersome chunk of …
The unveiling and consecration of Doug Hyde's emotive sculpture 'etweyé·wise, "I return from a difficult journey" at the Josephy Center this week marks a turning point in the presence of the w…
EPA crew examines barrel pulled from Wallowa Lake.
This past week has seen Wallowa County endure what might have been a major crisis, if not disaster: the detection, characterization and recovery of one barrel which once contained herbicide, a…
The Oregon Mountain Cruise last weekend presented an inspiring collection of automotive art. From painstaking restoration of fragile antiques to wildly creative manifestations of raw power, th…
Chris Mertz, director of the USDA National Agricultural Statistics Service field office in Olympia, Wash., says that while the number of small farms continues to grow, larger farms continue to…
It's seriously spring in Wallowa County. The balsamroot is blooming on the moraine. Thunder is rolling through the mountains. And lots of us have finally gotten up the nerve to plant our garden.
Editor's note: We've written often with affection towards past Wallowa County Chieftain editor, Gwen Coffin. We thought that it would be a treat, but also valuable to run one of his past edito…
The Oregon Senate passed a bill that would see the state join the National Popular Vote Compact, delegating its electoral votes in the presidential election to the winner of the popular vote r…
It's time for Wallowa County residents to pull up their sleeves and pledge support as the Wallowa Valley Center for Wellness and Winding Waters Clinic develop an integrative healthcare service…
Gov. Kate Brown's nomination of Enterprise rancher and big game hunter James Nash to the Oregon Fish and Wildlife Commission shouldn't be controversial.
U.S. Sen. Jeff Merkley, recently considered a potential candidate for President of the United States, came to Wallowa County on April 25, fulfilling his longstanding tradition of visiting each…
We can't wait to dig into the data released last week with the 2017 Census of Agriculture.
I made an error in last week's Letter to the Editor section on Page 5. Regrettably, during the last minute shuffling of the paper's layout the wrong name was assigned to the wrong letter. It w…
Anyone who follows the New York Times probably noticed that within days of each other the nationally influential paper published columns by two icons of contemporary journalism: David Brooks a…
editor's pick
hot
popular
Oregon's Legislature is proposing Senate Bill 959 which addresses legislative financial compensation. As it stands, Oregon lawmakers earn $31,200 a year and a $149 per diem payment for meals a…
editor's pick
featured
popular
Oregon's history tells story of a populace's fickle approach to the death penalty.
editor's pick
promotion
special section
featured
popular
special report
It was the summer of 2001 when my family moved to Wallowa County. Undoubtedly this would change my life forever. I was prepared for that.
On the surface, life is back to normal in the Oregon Capitol.
Oregon voters may soon get to decide whether to lower the voting age to 16.
The Oregon Legislature can't get housing right, on either side of the aisle. Like almost any spot in Oregon, Wallowa County faces a housing crunch that cripples the livelihood of many and thre…
If any of you are like me, you're growing weary of the division in our country, our communities … our families. It gets under my skin like nothing else. And being the admittedly sensitive and …
As we report in this weeks edition, the Wallowa County Planning Commission rejected an application by the Joseph Branch Trail Consortium for a conditional use permit to designate a community t…
Over the past week information has come to our attention regarding an issue that we take very seriously. During the coverage of the Joseph vs. Wallowa basketball game on Feb. 8, our reporting …
As is true across the state, Eastern Oregon is home to a sizable bloc of nonaffiliated voters.
It's understandable that you might be tired of politics in general right now, and political campaigns specifically.
As a society, we have made such progress against once-common illnesses that we forget they are still around and still potentially life-threatening. The measles outbreak in Southeast Washington…
The Wallowa County Chieftain boasts a long history of exceptional community journalism. Overwhelming community support and a long legacy of extraordinary editors and publishers account for its…
As the Oregon Legislature prepared to start work this week, its leaders were saying all the right things about working together, respecting rural Oregon and doing what was best for the state a…
Questioning the fundamental usefulness of government is the backbone of some American political factions, notably including the now seldom-mentioned Tea Party. Most of these righteous skeptics…
A new legislative report underscores that PERS could be headed for more trouble.
Some members of the Oregon Legislature and a coalition of environmental groups and small-farm advocates want the state to ban large dairy farms.
There was a time when Americans could expect their federal government to offer service that was both even-handed and helpful. Even timely.
It was disheartening to hear of the resignation of Joseph Mayor Dennis Sands. If the Joseph City Council can now move beyond bickering and animosity, it will be a good thing.
A mass movement is underway in Oregon — a mass timber movement.
"There's a right way and a wrong way to do everything."
This newspaper takes its role as a government watchdog seriously. That said, we don't get much in a bunch if occasionally a city, county or other public entity errs in its duties to keep us an…
No one in Wallowa County is against making improvements to the fairgrounds. There are many needs.
One of the most well-known graduation speeches is often incorrectly attributed to former Microsoft CEO Bill Gates.
Generally, news releases from Sen. Jeff Merkley contain the latest condemnation of Pres. Donald Trump, his actions, his appointees. It gets a bit predictable.
A proposal to create a library district in Wallowa County deserves your consideration as you complete you Primary Election ballot. The community has lost too many things that local effort coul…
The 2018 legislative short session is about to wrap up. We are constitutionally limited to 35 days, and as such are constitutionally required to finish by March 11.