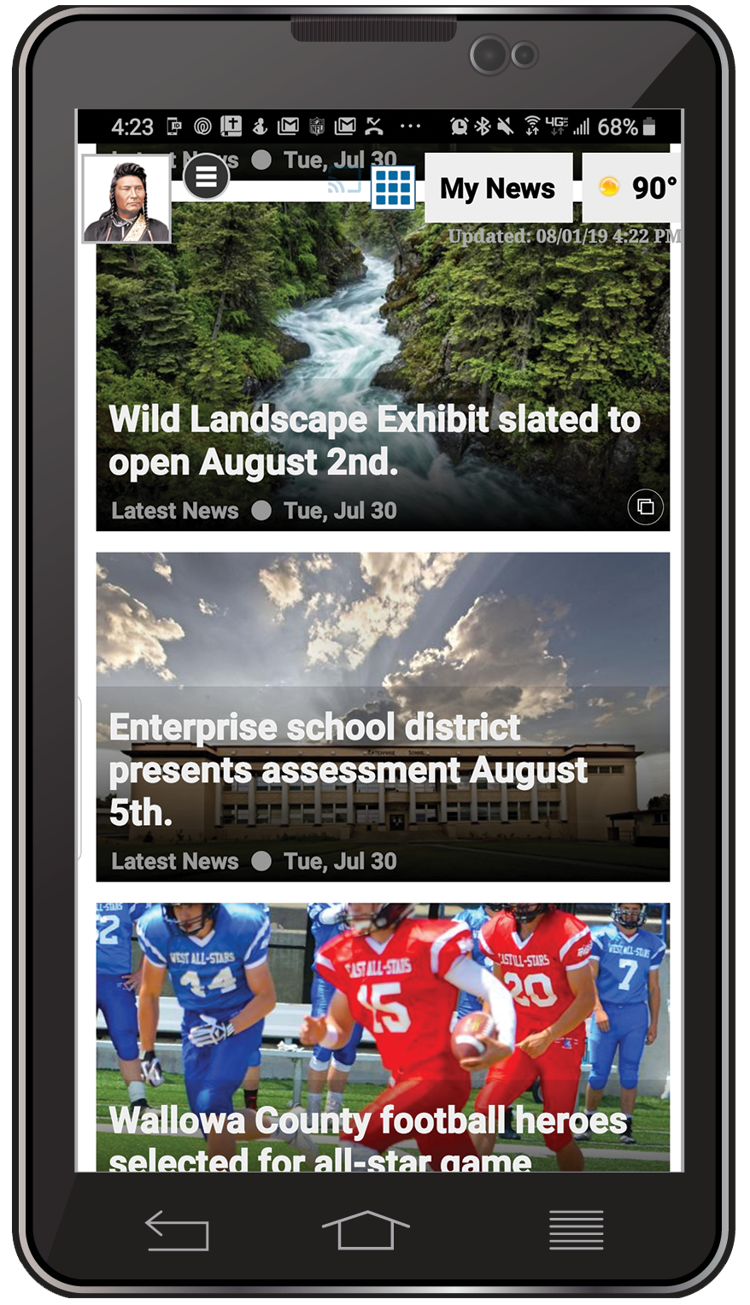 Get breaking news!
ODFW, wolves, cows, wildlife, forest fires, fish. Is there nothing else in this county to write about? Every week, another bearded man talks about fish. It's incredibly depressing. Please, ple…
Implant, non-er, "not from around here," tourist…all of these things have been said in one form or another about me and it is fine because they are all true. Like some individuals who move to …
The letter titled Beware of Socialism two Chieftains ago prompted some thoughts. I respect the USN (retired) person who wrote that article. However, I believe we are so far from becoming a Soc…
I want to thank Paul and Charlie for taking such great care of our downtown hanging flower baskets. They look AMAZING! Your dedication and hard work has helped beautify our town and make it lo…
This letter is in response to Mr. O"Banion's letter from suburban Portland (Gales Creek). Mr. O'Banion had a long list of complaints about the CJD rodeo. I thought the rodeo was wonderful. I h…
We once were proud that our country stood for righteousness, justice, liberty and freedom; however, now pride has faded. Greed, irresponsibility, and violence have taken the place of the honor…
On July 14, 2019 Valley Bronze of Oregon, Inc. lost a dear part of our family, Becky A. Hauskins. Valley Bronze had the pleasure of employing Becky since January 4, 1994. Becky was an importan…
Reflections on the Lostine Dump
In the Trail project article 7/31 edition, Ms Millar states one reason they decided to withdraw the appeal was "the decision of the commissioners to keep the record open until July 1 for the s…
Dear Editor of Wallowa County Chieftain,
The Letter to the Editor authored by Rodney and Linda Botts (July 23, 2019) corrected several factual inaccuracies in Mr. Tool's article concerning Mr. McKee's aborted conditional use permit a…
The news article by Steve Tool, "McKee withdraws Big Sheep campground application", in the Chieftain's July 17 edition is misleading and disingenuous. Mr. Tool states there were "about one doz…
Me and the kokanee are swimming a little easier now that the EPA has decreed the Lake free of the herbicide Agent Orange. But I did — mid-backstroke — overhear Mama Merganser remark to her han…
No test of Attainer shall be required
Show your Support for our Great Local Theatre
I am against the improvements to Wallowa Mt. Road that started this week. The speed limit is 35mph. Most vehicles are going around 55. The deer are getting killed and there is no law enforceme…
When I was growing up in the 60's and70's, when we recieved a gift we were expected to send a thank you note or give a personal thank you; as in a hug to grandma. Now it seems as though thank …
One rule that must apply to salmon, regardless of the area and river system, is that the adults must return from the ocean for the run to be successful.
I want to thank Belinda Buswell and Marty Hamilton for their efforts at the most recent Joseph City Council meeting to find documentation and build community. They are so appreciated.
Your May 8 column sparked in me a desire to comment on divisiveness and its precedence rearing its ugly head in our section of paradise.
We all agree that children in Oregon deserve the opportunity to succeed regardless of their neighborhood and their parent's economic status.
The Wallowa County Local Community Advisory Council advocates for the health and wellness of our county. We consist of citizens from all walks of life, community partner organizations and Oreg…
I recently heard about the proposed Joseph Branch Trail, and would like to share some of the experiences we had in Klamath Falls when we established our OC&E Trail, which is a trail built …
For 19 years, the Wallowa County Farmers' Market has proudly served as a vibrant nexus in downtown Joseph – local producers and artisans sell their wares, musicians fill the air with sweet mus…
Regarding parking issues at the farmers market, moving it to the public parking lot is counterproductive — it's for public parking! Who will clear all the RVs and boats out for the market? Whe…
I am writing you today about our experience with the American Tobacco Trail in Apex, NC. Ron Polk, a member of the Joseph Branch Trail Consortium, asked me to share my story with you.
In my opinion, it may be time the citizens of Joseph take a moment to reflect on the duties of the Joseph City Council. The first priority of the council is to maintain a safe, financially sta…
I'm writing this response to Christina Knecht's recent letter to the editor — an ill-mannered attempt at discrediting Teresa Sajonia.
A group of community volunteers wanted to solve a problem: inadequate access to the second floor of a historic building, the Odd Fellows Hall, in downtown Enterprise for people with disabiliti…
I was troubled by a few points Ms. Lathrop made in her guest editorial last week re: the Joseph Branch Trail. First, her claim that the all-volunteer group somehow had sinister, hidden motives…
The David vs. Goliath comparison described in last week's anti-Joseph Branch Trail Op-Ed is accurate — except the writer has it backwards. The real Davids are the many hard working neighbors t…
We Can Prevent Child Sexual Abuse in Wallowa County.
I would like to thank the Chieftain for the recent articles on women ranchers in Wallowa County. The articles were well written and very informative. When the new editor was hired I thought if…
I am concerned about the Wallowa Lake Dam improvement proposed by Governor Brown and to be voted on soon.
Connie Dunham's letter (3/13/19) about elk encroachment on Wallowa County ranchland tries to link it, naturally, to wolves, claiming they drive elk to the safety of the valley. Solution: kill …
The editorial "Thou Mayest" (March 6) harks back to the drafting of the Constitution and earlier.